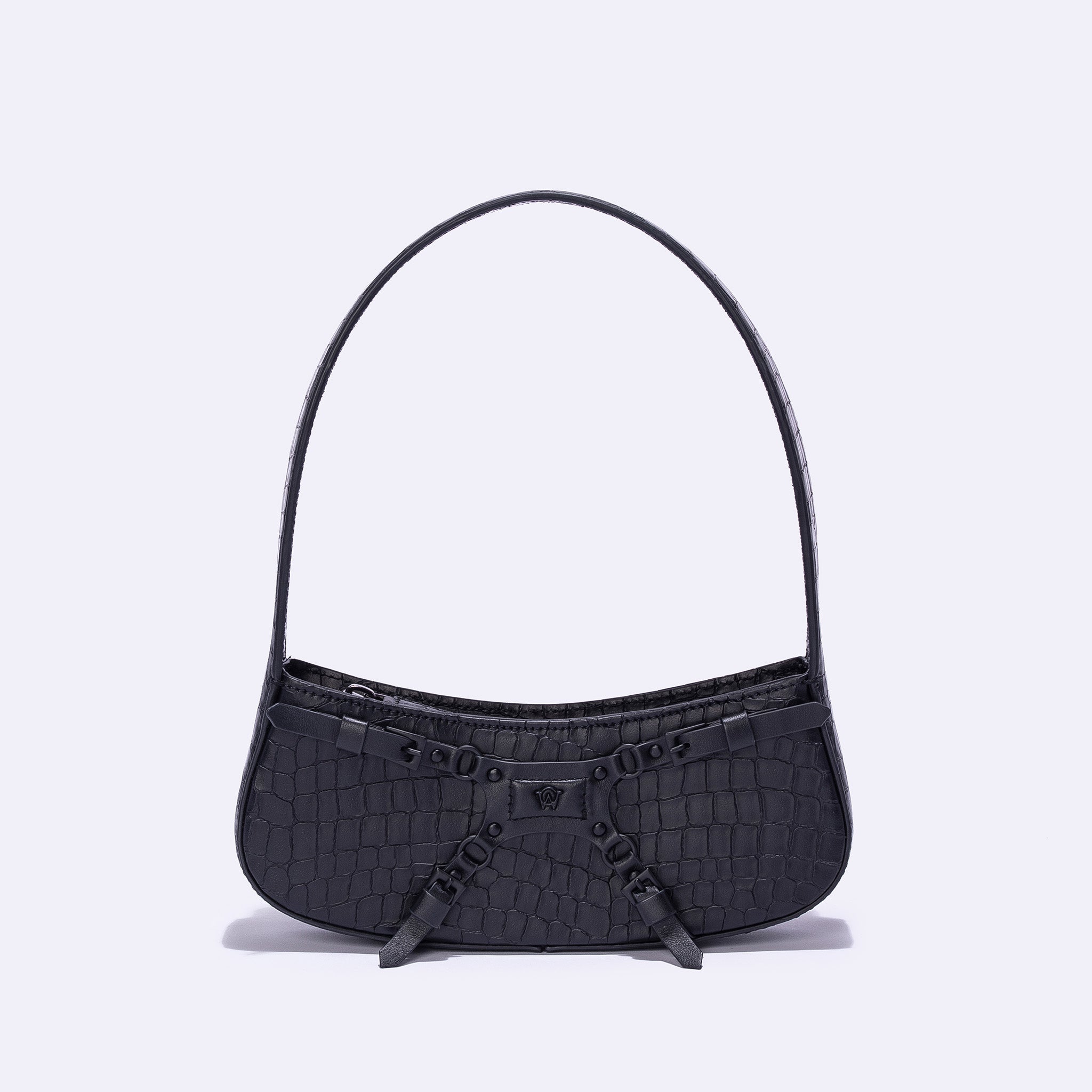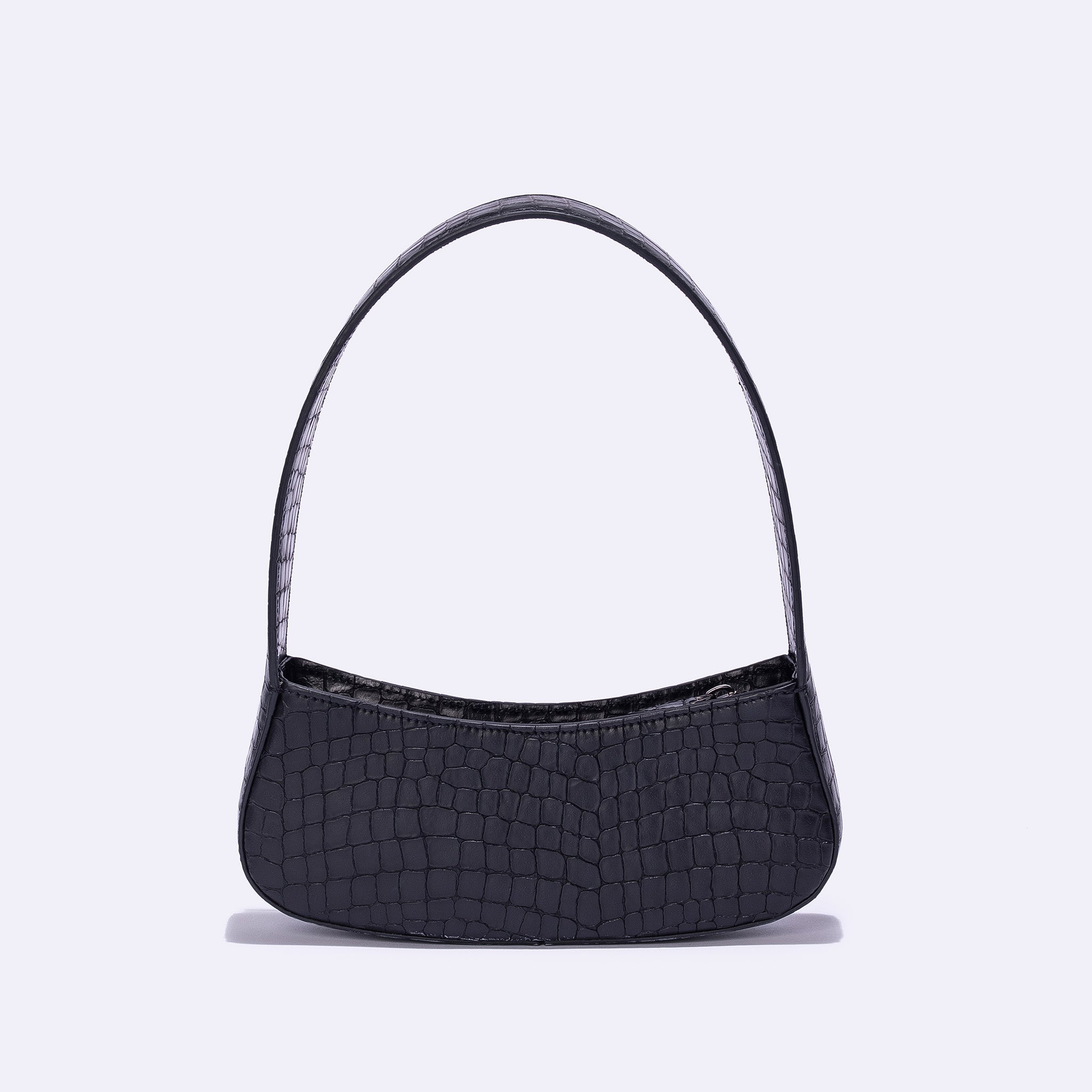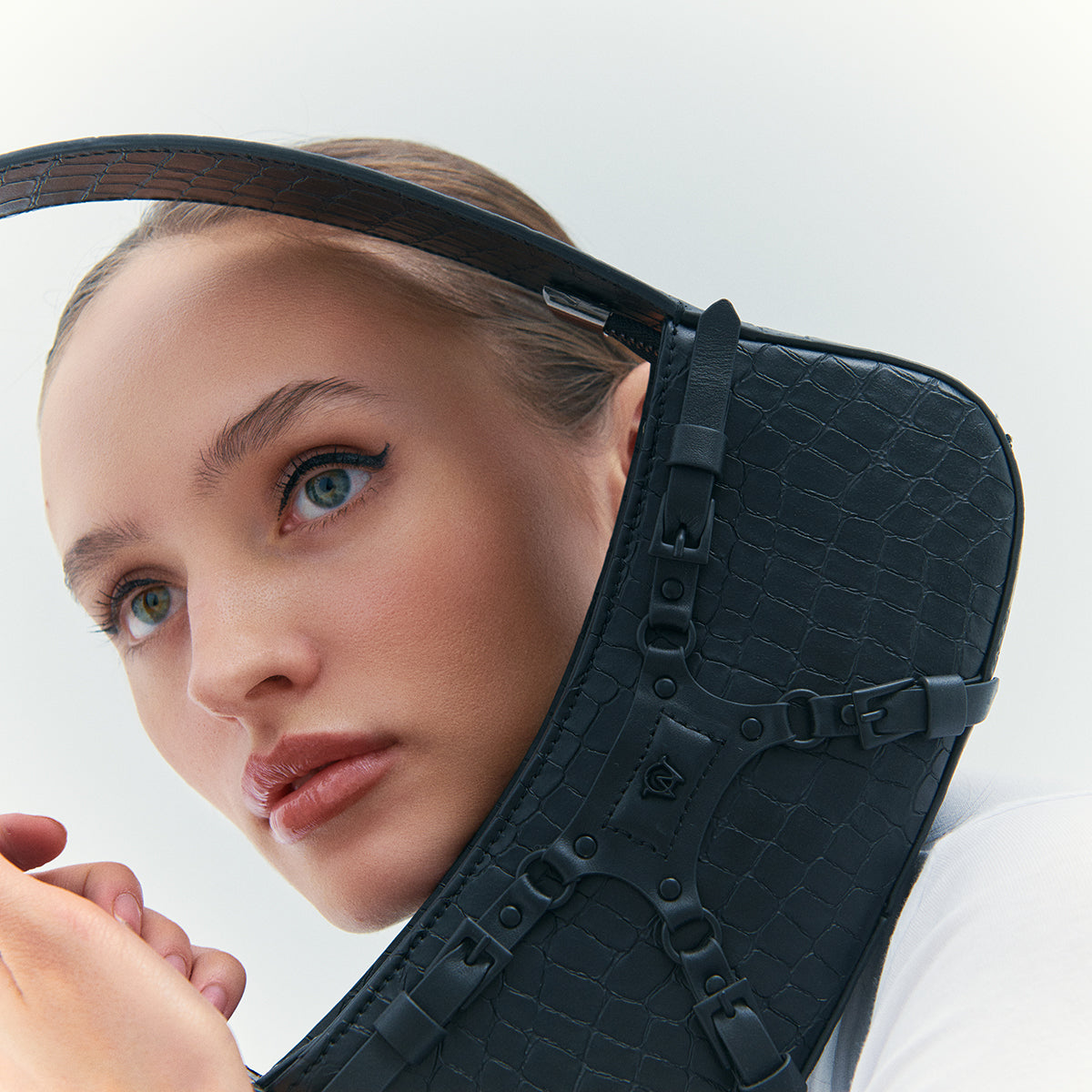 Introducing the newest edition of MAYA Bag- MAYA MATTE BLACK. Made out of croc embossed matte jet black calf leather. Go wild for your next accessory update. You'll be holding onto sophisticated style, effortlessly, with Manc's newly released crocodile-effect mini shoulder/handbag . Maya is a compact, carry-everywhere bag with our signature embossed logo on top. Perfect for a night out or a day time stroll.

Black accessories
Designer plaque, gold hardware,
Internal slip pockets
Comes with dustbag
Top zip fastening
Made in Turkey
Dimensions; Width:24 cm Height:10 cm Length:4.5cm
Handle height starting from the zipper: 20 cm
Outer Material:

 %100 Calf Leather (Croc Embossed) 

Lining: %100 Cotton
All of our products will be delivered in our signature MANC packaging.
Product Care




Manc uses gold colored plated hardwares on your Manc bag. The golden hardwares will not loose clarity and color if handled with special care. Avoid any contact with other surfaces. Avoid all contacts with liquids and especially cremes or hand lotions. Please note that Manc cannot accept any complaints due to loss of color of our gold plated hardwares. Substances such as alcohol, cologne and disinfectant should not come into contact with our products. Otherwise, they might damage the skin of the leather. In order to minimize possible damage, we recommend wiping the stained area with Vaseline with small strokes and then wiping with a damp cloth.






For Leather Bags

Wipe regularly with a soft, dry cloth
Do not overload your bag
Avoid contact with darker colored materials
In case of accidental scratches, reduce by massaging the skin gently
Avoid contact with grease, mud, dirt and rain
Protect from alcohol, oil and other liquids. In case of exposure to alcohol, rub gently with vaseline
Protect from exposure to extreme sunlight and humidity
Extra care should be taken to protect white and light colored handbags
Clean by a leather specialist only

For Shearling Bags

Wipe regularly with a soft, dry cloth
Do not overload your bag
Avoid contact with darker colored materials
Store in the dust bag for minimal exposure do dust the elements
Protect from exposure to extreme sunlight and humidity
Do not rub or brush
Extra care should be taken to protect white and light colored handbags
Clean by a leather specialist only


For Satin Bags

Wipe regularly with a soft, dry cloth
Do not overload your bag, it may stretch the fabric
Avoid contact with darker colored materials
Store in the dust bag for minimal exposure do dust the elements
Protect from exposure to extreme sunlight and humidity
Protect from sharp or abrasive objects and surfaces that could damage satin
Protect from alcohol, oil and other liquids
Extra care should be taken to protect white and light colored handbags
Clean by a leather specialist only